150%

Increase in monthly search traffic

Share of search traffic in this auto accessories niche

'Paint Protection Film'

Now a top-ranking keyword for quality enquiries & leads
Meet Peninsula Tint & Paint Protection
Tim and the Peninsula Tint & Paint Protection (PTPP) team have over 17 years of experience in the window tinting industry.
More than the Mornington Peninsula's experts in tinting services, the PTPP team are passionate vehicle enthusiasts who understand that getting behind the wheel isn't just about moving from A to B. They know that a car is a crucial aspect of daily life that needs to be protected from damage - whether UV rays or road gravel - and that the best quality window tinting and paint protection products are needed for lasting protection.
PTTP's Challenge
Tim and the team were using a Squarespace website with zero SEO so their site didn't rank on Google. This meant Tim was managing his own Google Ads campaigns to try and generate leads.
Without organic leads coming through Google, Tim was burning through a Google Ads budget that was delivering inconsistent leads and wasting his free time. Tim wanted to reduce his advertising spend and start generating more leads from Google while adding a 'WOW' factor to his website.
As much as Tim wanted his website to look professional and load quickly, he was most interested in an SEO-friendly website that would a). Rank on Google for relevant keywords relating to window tinting and paint protection and b). Help convince visitors that PTTP was the #1 option and local experts in all things tinting and paint protection.
Unfortunately, Tim's Squarespace website was little more than a basic landing page that didn't give people the information they needed to become leads.
"I had a website that was two or so years old. A Squarespace website that was just a landing page. It was quite basic." explains Tim. "The website is the face of our business, and we wanted something to be proud of".
To achieve Tim's goals of generating quality leads through Google, the PTTP website needed more than a fresh coat of paint - it needed to be built from the ground up with an SEO framework that combined great content and powerful imagery to build trust and push people towards a quote request or phone call.
The SEO Assassin Solution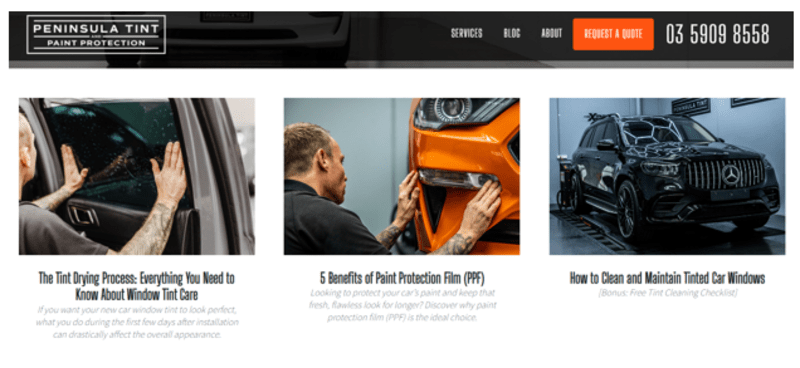 We interviewed Tim to get his priceless industry expertise then built a fast, new SEO website packed full of content created around his one-of-a-kind insights.
We realised the quality and quantity of leads coming through PTTP's website would never improve until the website improved. Their enquiries and leads were flat because their website wasn't built to address their customer's problems, showcase the PTTP's expertise, or encourage conversions.
To change the way PTTP's customers saw them in the market, we started by interviewing Tim to understand his services in-depth and create content that combined his unique perspective and experience with relevant keywords to drive local traffic.
The new website we created was built around an SEO framework to improve search rankings for Tim's primary services with engaging call to action buttons designed to funnel site visitors towards requesting a quote. To help build Tim's standing as a local expert, we included high-quality images that helped simplify each service and remove the barriers in the way of a phone call. More than an aesthetic change, the new images created a seamless flow that connected each page of their new, fast website and encouraged visitors to explore.
Knowing that Tim and the team wanted to increase their organic leads (and rely less on Google Ads), we created monthly blog posts that combined Tim's interviews with our own keyword research to publish content that ranks for relevant window tinting and paint protection keywords and is highly authoritative.
The Results
The PTTP website enjoyed an enormous lift in visibility on Google with popular keywords like 'Paint Protection Film' bringing new, quality traffic.
New, problem-solving content meant website visitors were informed and instantly aware of what the PTTP team does and what quality they provide. This cut down on the back-and-forth selling that Tim and the team previously had to undertake and brought 'ready to buy' leads to Tim's inbox.
Monthly search traffic increased by 150% with many website visitors returning multiple times. This reinforced Tim's standing as a new local thought leader, with potential customers comparing Tim's competition before coming back to Peninsula Tint & Paint Protection as a result of the user-friendly website combined with informative and expert content.
"It's given me a lot of confidence because I've been getting a lot better quality of leads" explains Tim. "We've got 3 or 4 times as much traffic to the website organically compared to what Google Ads was bringing. People are finding me!"
With the combination of high-quality content, professional imagery, and newly optimised calls to action, the PTTP team enjoyed the increase in traffic and leads they were looking for. In combination with blogs that helped Tim stand out, Tim is relying less on Google Ads and bringing in new business through organic keywords and Google leads.