| | | |
| --- | --- | --- |
| Increase in monthly search traffic | Share of search traffic in the landscaping niche | Increase in Domain Authority from 2 to 14 |
Meet Foliage Landscaping
Andrea and Anthony, owners of Foliage Landscaping, share a love of landscaping.
Their combined passion ensures Mornington Peninsula families wake up to the gorgeous, modern, welcoming outdoor spaces they desire. They understand that a garden is a multi-purpose space for socialising, relaxing, and recharging batteries - that's why they provide premium landscape services from project conception to completion. Customising each project from start to finish, Andrea and the Foliage team love working with the natural environment to create one-of-a-kind sanctuaries for their clients.
Foliage Landscaping's Challenge
Andrea and the team's main challenge was a templated website without an SEO foundation that meant organic search rankings were low and leads were unreliable.
Some leads were hot...but most were colder than a Mornington Peninsula winter morning. Without a way to qualify leads, the Foliage team was wasting time moving through the sales process with people that weren't a good fit (or even located on the Mornington Peninsula).
Andrea and the team wanted a website that reflected their premium service and a consistent flow of leads for A and B quality clients (instead of C and D level clients). They were frustrated by attracting the wrong type of customer and wasting time trying to sell to leads who weren't the right fit.
At the same time, they wanted to become the #1 ranked website in the 'landscaping' niche to create a flow of local customers. But their image-heavy website and lack of content meant their rankings were flat and there was no consistency to the leads coming through.
"The website was a weak point so we were attracting the wrong clients", says Andrea, describing the frustration of seeing low-quality leads come through his website month after month.
"We had lots of beautiful images, but they were slow to load so the bounce rate was pretty high and people weren't staying around and having a look. There was no content to the site", explains Andrea.
In order to grow and become the #1 authority in the landscaping niche, the Foliage Landscaping team needed to optimise their website for SEO to improve rankings, drive high-quality leads, and become a trusted thought leader - and that was our challenge.
The SEO Assassin Solution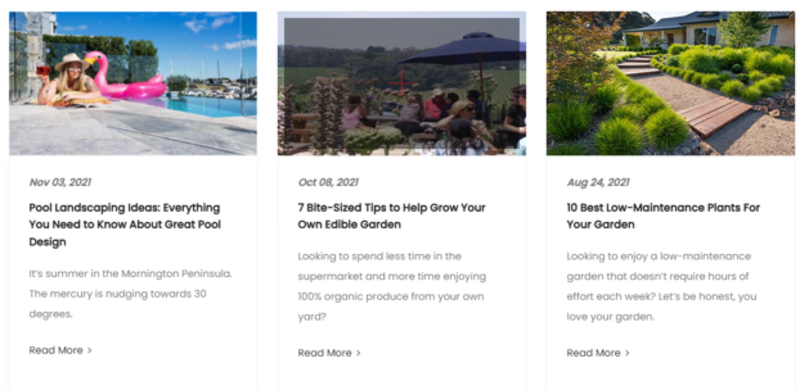 We built a fast, new website with an SEO focus and packed full of quality, problem-solving content.
The combination of a custom HTML website and keyword-rich service pages meant the new Foliage Landscaping site was quick to load, free of technical issues, and built around strong landscaping keywords.
Through the addition of clear calls to action, we made it easy for customers to go from browsing to contacting the Foliage team, so Andrea and Anthony didn't need to get bogged down managing a bloated site that wasn't built for purpose.
It's always a challenge to rank a new website, but we had a strategy to turn the Foliage brand name into a leader in the landscaping space. With monthly blog posts written around relevant landscaping keywords, our SEO approach was to focus on Foliage's audience and their outdoor landscaping problems.
From there we created high-quality blogs that answered every possible question a Mornington Peninsula homeowner might have about transforming their outdoor space (plus a few questions they hadn't even thought of yet) to guide organic traffic to the site and towards a quote request, on-site assessment, or booking.
The result was a website that's clear, full of easy-to-find content, and even eye-catching videos to help increase time spent on sight and show potential customers that the Foliage team understands their problems.
The Results
Andrea and Anthony are enjoying the high-quality leads, a spike in organic traffic, and status as thought leaders that they craved.
Foliage Landscaping has enjoyed a significant lift in visibility on Google going from virtually nowhere to enjoying 28.44% of search traffic share in the competitive landscaping niche.
We knew Andrea and Anthony wanted to become thought leaders to attract a higher quality of leads, and through our deeply researched and high-quality blog posts, their Domain Authority (DA) exploded from 2 to 14 (a 600% increase). This reflects their standing as thought leaders, with the higher DA reflecting their status as experts in the eyes of Google.
Foliage wanted to improve the quality of their leads to take on projects that were a better fit, and with a 311% increase in organic traffic, they're receiving a regular volume of leads (from local customers in the right area) to give them the flexibility and freedom to choose the A and B level customers